Problem of Stickers
In another article, we discussed about the problem of stickers that just refuse to stick. This time, however, we will be discussing the opposite – what if your bumper stickers won't come off?
A new paint job, new stickers, or maybe you're just tired of your old stickers… There are many reasons why you may want them to come off. But when you try to peel them off, they just won't come off!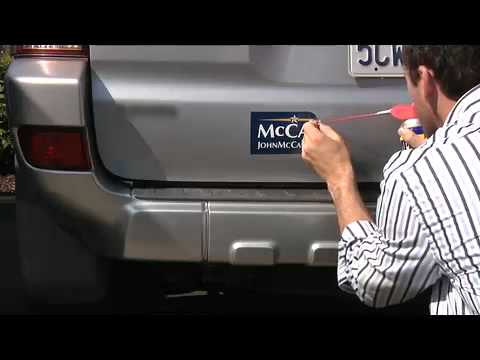 Before going into the garage to find a knife, try reading through these tips first and see whether you can solve the problem faster than you think.
First Of All, Drop the Knife
Using a knife or any sharp or metallic object can potentially damage your car paint and show unsightly scratches and chips on the exterior. Try using your fingers or a plastic knife instead. Otherwise, you can wrap your tool in a thin cloth or plastic to reduce the risk of damage on your car.
Use Vinegar
White vinegar can help loosen the adhesive on your bumper sticker. Simply spray some vinegar all over the surface of your sticker and let it sit for a while. Then, gently pry off the corners of the stickers using your fingers.
Aside from vinegar, other popularly used agents are rubbing alcohol, water, and dish washing soap.
Use Heat
Many vinyl sticker adhesives react to heat. Heat can soften the adhesive and loosen your sticker. You can soak a cloth in hot water and apply it on the sticker, or use a hair dryer set at the lowest heat level. Make sure that it is not hot enough to damage your car paint.
If All Else Fails…
Some stickers can be very stubborn, especially those sun-baked ones that have been around for a very long time. In this case, you might prefer to invest in agents like WD40 or Goo Gone to remove your sticker. Please note that these agents can irritate the skin so you would want to be careful when handling them.
In need of new bumper stickers to replace your old ones? Express Stickers prints high-quality vinyl stickers among their many offerings. Get some stickers now!